---
Two places to see TRAIL MAGIC in April!

Tuesday, April 24, 2018, 6:30 p.m. at Virginia Beach REI, 350 Independence Blvd,Virginia Beach, VA. Tickets are $5.00 and registration is requested. For more information call REI at (757) 687-1938.

Friday, April 27, 2018, 3:00 and 7:30 p.m. at Hocking Hills Tourism Association will show the film at the Artista, 38 West Main St, Logan, Ohio. Both screenings are FREE and open to the public. For more information, call Karen at 740-385-2750.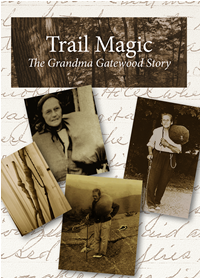 The TRAIL MAGIC documentary is now available on DVD
check our calendar for complete information about upcoming presentations in person or on TV.
---
Find out more about us --
---
We are grateful to all our supporters who help us tell the stories that others forgot! We invite you to join this special group.
Eden Valley is a not for profit corporation under section 501(c)(3) of the Internal Revenue Code. As such, Eden Valley gratefully accepts donations to help fund our educational programming. If you would like to make a donation, you can download a convenient PDF form and send us a check, or you can make a payment through PayPal. (If you have a PayPal account, you can chose to make a one-time donation or set up a recurring schedule.)
All donations are tax-deductible and gratefully accepted. To make a donation through PayPal, simply click the button below.
There's no such thing a "small donation"! We appreciate your help.

Help support Eden Valley's Educational programs by using our partner websites for your Internet searches and shopping,
use GoodSearch.com for all your Internet searches and use GoodShop.com for all your Internet shopping. It's easy and free and each of your searches sends money directly to Eden Valley. To learn more, click here.
Your Amazon.com and Amazon Smile purchases made through the Eden Valley website, help support us, too!
You can shop at ShopForYourCause. Simply register on the site, choose Eden Valley Enterprises as your cause, and shop! Any purchases made through this site, will provide a donation to Eden Valley -- it's that simple!