Please join us on our Trail to tell Emma's story with a tax deductible donation.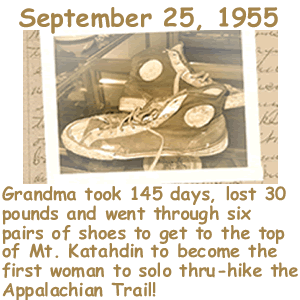 September 25 is the 59th Anniversary of Emma's hike, to celebrate we're giving a FREE copy of the e-book, Grandma Gatewood: Ohio's Legendary Hiker and a copy of the DVD of the storytelling program of the same name along with Emma's Oatmeal Cookie Recipe to anyone who donates $59 or more before October 1, 2014 will ge . All donations are tax-deductible and go towards the documentary about Grandma's adventures.
If you would like to support this project with a tax-deductible donation, you can send a check made payable to Eden Valley Enterprises; 1250 East River St., Elyria, Ohio 44035 (download a convenient PDF form) or pay online with PayPal by pressing the "Donate" button below or take part in Grandma Gatewood's Bakeless Bake Sale! (As a not-for-profit organization under section 501(c)(3) or the Internal Revenue Code, all donations are tax-deductible. You will receive an acknowledgment for tax purposes and be eligible for our special Donor Rewards.)
If your company would like to be a corporate sponsor, you can download this special form. For additional information or to discuss special corporate sponsorship benefits, contact us.
Thank you for helping us!
Like us on Facebook!