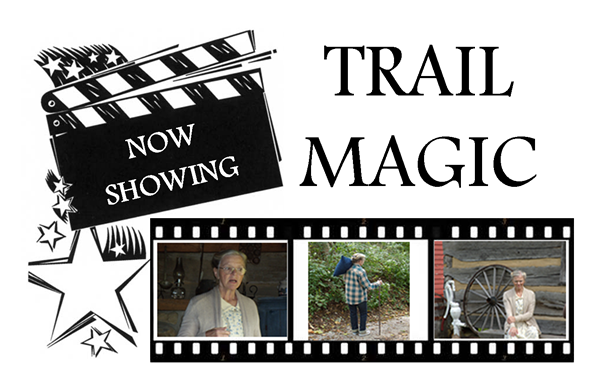 TRAIL MAGIC -- the story of "Grandma" Emma Gatewood will premier on Friday, May 29, 2015 at TrueNorth Cultural Arts; 4530 Colorado Avenue; Sheffield Village, Ohio 44054!
The long-awaited documentary about this Ohio grandmother who became the first woman to solo thru-hike the 2,050-mile Appalachian Trail in 1955 will premier during a two day event produced by Eden Valley Enterprises and FilmAffects and hosted by TrueNorth Cultural Arts and the Lorain County Metro Parks.
On Thursday May 28 at 7p.m. find out about Emma's historic hike and learn about her life when Bette Lou Higgins presents GRANDMA GATEWOOD: OHIO'S LEGENDARY HIKER. This storytelling program with PowerPoint slides will give you the background of Emma's remarkable life. The program is FREE and open to the public, but reservations are requested for reserved seats (Seating is limited). For reservations and information call (440) 949-5200 X 221. This presentation is sponsored by the National Storytelling Network and Parkhurst Brothers, Inc. and is a 2015 NSN Regional Spotlight Event.
Come back on Friday, May 29 to get the rest of the story with TRAIL MAGIC, the documentary which will feature interviews with Emma's relatives, Emma's story as portrayed by Anne McEvoy, and background of the Appalachian Trail and historical perspective. The "Red Carpet" goes out at 7 p.m. followed by a 7:30 p.m. presentation of the documentary. The showing will be followed by a meet/greet/talkback with the documentary staff including director, Peter Huston and writer Kelly Boyer Sagert. The evening will conclude with a reception and a second showing at 9:15 p.m. Friday's event is a mini-fundraiser. Tickets are $15 for adults and $10 for school age children and are available online or by calling (440) 949-5200 X 221. TRAIL MAGIC is made possible, in part, by a grant from the Ohio Historical Society's History Fund. The History Fund is supported exclusively by voluntary donations of Ohio income tax refunds and designated gifts to the Ohio Historical Society.
TRAIL MAGIC is the culmination of a project to document Emma's life by Eden Valley Enterprises and FilmAffects with the support of many people and organizations.
This weekend's events are being sponsored by:
The Staples Foundation and Staples/Midway Mall
The Puffin Foundation West, Ltd.
TRAIL MAGIC is produced by
and

If you would like to host a presentation of our storytelling program, one-act play and/or the documentary about Grandma Gatewood, let us know. We'd love to bring her story to you!
If you would like to support Eden Valley's Grandma Gatewood project with a tax-deductible donation, you can send a check made payable to Eden Valley Enterprises; 1250 East River St., Elyria, Ohio 44035 (download a convenient PDF form) or pay online with PayPal by pressing the "Donate" button below.
Make a donation of $20 or more before JUNE 15, 2015 and receive a thank you gift of Grandma Gatewood 60th Anniversary T-shirt OR a hand-made infinity scarf.
As a not-for-profit organization under section 501(c)(3) or the Internal Revenue Code, all donations are tax-deductible. You will receive an acknowledgment for tax purposes.

Help support Eden Valley's Educational programs by using our partner websites for your Internet searches and shopping,
Like us on Facebook!