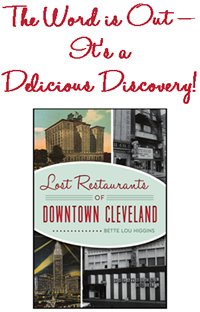 From the Mail Bag...

Kelly Ann: Hello! I got your book yesterday and I'm obsessed.



Rosemary Kubera: Your book is wonderful! More relevantly, it is really good. It will be a resource for many for
years to come.



Robert Anderson: Bette Lou, know that you have delivered many, many delicious memories with your new book… Well done … lots of kudos to you for a great writing style along with yard and yards of accurate research … you are responsible for many souls who now can live deliciously in their memories.

Estelle Rodis Brown,Boomer and Beyond Magazine (November/December 2021): Elyria Author Higgins takes readers on a historical tour of the restaurants that used to keep Clevelanders well fed, watered and entertained… With detailed research and first-person accounts, Higgins tells the colorful backstories of beloved eateries at Public Square, the Terminal Tower, the theater district and more as it existed outside the front door.

Cheryl McConnell: Bette Lou, Gary and I both read your book and enjoyed it immensely. You were able to bring the history of past Cleveland restaurants to life in a truly enjoyable way. Some of the restaurants were a fun trip down memory lane while others showed the interesting development of Cleveland's culture and society over the past 100 plus years. Rafferty's Monkey House/Museum was highly entertaining and, wow, what a menagerie of animals! We are telling our friends that this book is a great reading experience!

Jeff Sigsworth: I LOVE all the research and stories you collected; not only about the restaurants, but also about the great bands, singers & performers who've appeared at many of them through the years. A GREAT read!

Marv Jonason: I ... really enjoyed your book on "Lost Restaurants of Downtown Cleveland". It was a culinary delight and wonderful historical trip through time as the restaurant scene developed in Cleveland.
Our companion storytelling program, A TOUR OF CLEVELAND RESTAURANTS IN 30 MINUTES -- MORE OR LESS!, is also garnering rave reviews!

Dawn Sardes of Euclid Library hosted the program on April 5, 2022 and later e-mailed us: "The pacing of the presentation was perfect, and Ms. Higgins' humorous delivery lent it a fun & light-hearted journey into the past."