Have a historically good Halloween!

*Monday, October 27, 2014; 7p.m.: Get in the spirit with

OHIO GHOST STORIES

(complete with spooky sound effects) at the

Avon Library

at 37485 Harvest Dr. in Avon, Ohio.
---
Join us at the Maritime Museum of Sandusky on Saturday, November 8, 2014; 1p.m. and hear the story of Dr. Sam Cassels' trip to the Upper Peninsula in 1846 when he "brought home" Cleveland Mountain to open the shipping of iron ore from Michigan to Cleveland, Ohio.

---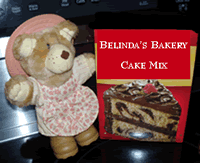 Belinda Bear invites you to join her for Grandma Gatewood's Bakeless Bake Sale going on now and help make a movie! (Belinda has her own Facebook page -- she hopes you Like It!) Belinda thanks Carol Haywood for her donation of Oatmeal Cookies made with Grandma Gatewood's recipe! Try them!
---
Did you know that Eden Valley has received a challenge grant of $15,000 from the Ohio History Fund toward the completion of our documentary about Emma Gatewood? Find out all about it and please join us on our trail by helping to meet this challenge by making a tax-deductible donation.
---
Find out more about us --

Watch videos and PowerPoints about EVE and its programs.
Read comments about our programs
Read our latest newsletter, Summer, 2014
---
Eden Valley is a not for profit corporation under section 501(c)(3) of the Internal Revenue Code. As such, Eden Valley gratefully accepts donations to help fund our educational programming. If you would like to make a donation, you can download a convenient PDF form and send us a check, or you can make a payment through PayPal. All donations are tax-deductible and gratefully accepted. To make a donation through PayPal, simply click the button below.

Help support Eden Valley's Educational programs by using our partner websites for your Internet searches and shopping,
Find us on Facebook!