Presented on Saturday, June 14, 2014
at the Baseball Heritage Museum.
This event was presented by Women Making Moves and Eden Valley Enterprises as a fundraiser for EVE's Grandma Gatewood project.
It was generously sponsored by The Baseball Heritage Museum, The Kabob House, Poppee's Popcorn, Staples/MidwayMall, and Sushi 86.
See pictures from the event!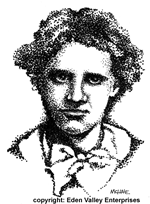 Seventeen year old Alta Weiss came to visit Vermilion with her family during the summer of 1907. There wasn't much to do in Vermilion, so Alta headed over to watch some boys playing baseball. At first they thought it was cute when she asked to play catch with them -- until they tried to catch her pitches and their hands wouldn't quit stinging. They knew -- Alta Weiss was for real! Soon she was pitching for the boys team and it wasn't long before she was at Cleveland's League Park pitching in a semi-professional game against the Cleveland Naps.
Alta Weiss was born on February 9, 1890 in Berlin, Ohio. Even as a child, Alta was a natural athlete. Dr. George Weiss, her father, said that she "never threw objects with the tipping or pushing motion characteristic of a girl." It was even claimed that she threw corncobs at the family cat with all the "follow through and wrist snap of a big league pitcher"-high praise for any child, but ESPECIALLY for a two year old girl!
Alta graduated from Auburn Township High School on May 21, 1908 and went right into the baseball season. (Even the commencement date had been changed in order not to conflict with the game schedule of its star pupil. Of course, it helped that her father had once been school board president.) That fall she used her baseball earnings to enroll at Wooster College where she kept in shape by starring on the college basketball and tennis teams. After graduating from Wooster with a degree in physical education, she went to the Starling College of Medicine in Columbus (now the Ohio State University Medical College).
During World War I and in 1915, Alta worked as a physician. She set up her own practice in Norwalk, Ohio in 1925. She retired from medicine around 1948 and moved to Ragersville, Ohio where she died in 1964.

Adapted from "Cigars, Sinkers & Sandlots" by Shelley Pearsall
from REMARKABLE OHIOANS; copyright 1999, 2012; Eden Valley Enterprises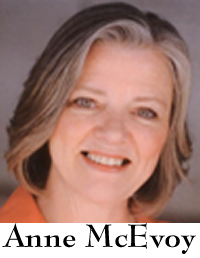 Anne McEvoy is a long-time fan of discovering the hidden stories of some of history's fascinating women and is excited to portray Alta Weiss for Eden Valley Enterprises. This is her third remarkable Ohio woman that Anne has brought to life for EVE -- in August, 2013 she premiered "Trail Magic" as Grandma Emma Gatewood and in March, 2013 she created the newest program for the MEET THE PEOPLE Series: Victoria Woodhull. A member of Women in History, Anne performs 10 different characters for them. A full-time senior writer at American Greetings, playwright and children's book author, Anne's first love is theatre. She most recently performed in Medea with Cleveland's new MAMAI´ Theatre and Sons of the Prophet at Dobama. She has also appeared at Actor's Summit, Beck Center, Cleveland Playhouse, Cleveland Public Theatre, Ensemble Theatre, Great Lakes Theatre, Karamu, Lakeland, Ohio Shakespeare Festival, and in the long-running Flanagan's Wake at Playhouse Square.