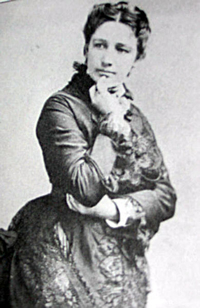 On March 20, 2014, Anne McEvoy premiered our newest program in our MEET THE PEOPLE series -- VICTORIA WOODHULL. The presentation took place at the Parma Campus of Cuyahoga Community College with an audience that was amazed that our first female presidential candidate not only came from Ohio, but that most of her political ideas (which were considered scandalous at the time) are now considered normal! The two young girls in the audience gave her two thumbs up!
Victoria Woodhull (September 23, 1838-June 10, 1927) is truly a most remarkable character. Coming from a poverty-stricken background in Homer, Ohio and with little education, she managed to become the first woman to publicly address the United States Congress, first woman to run for U.S. president, active suffragist, newspaper editor and stockbroker. She accomplished more than anyone would have expected of her. Except for her spiritualist activities and the fact that she managed to become involved in a number of scandals and "out of the normal" activities, she might well have become one of Ohio's most prominent citizens. It is interesting to note that her "extreme" social and political beliefs have, for the most part, since become reality.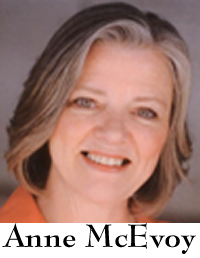 Anne McEvoy is a long-time fan of discovering the hidden stories of some of history's fascinating women and is excited share Victoria Woodhull's life and adventures with Eden Valley Enterprises. A member of Women in History, Anne performs 10 different characters for them. A full-time senior writer at American Greetings, playwright and children's book author, Anne's first love is theatre. She most recently performed in Medea with Cleveland's new MAMAI´ Theatre and Sons of the Prophet at Dobama. She has also appeared at Actor's Summit, Beck Center, Cleveland Playhouse, Cleveland Public Theatre, Ensemble Theatre, Great Lakes Theatre, Karamu, Lakeland, Ohio Shakespeare Festival, and in the long-running Flanagan's Wake at Playhouse Square.