The first program in our OHIO WOMEN THEN AND NOW series took place on Tuesday, March 4 at Lorain County Community College. The group enjoyed learning about the Cleveland photographer's adventures during WWII. The festive occasion included light refreshments courtesy of Earthfare and a gift bag raffle.
We got mail!
Laura e-mailed us:
As Alisa portrayed Margaret Bourke-White, I was transported in time to a very different world. I was particularly moved as Alisa shared Margaret's experiences as a war correspondent. Alisa's words and the accompanying photographs reflected Margaret Bourke-White's bravery and compassion.
Laura
Steve & Judy e-mailed:
Wow, we greatly appreciated Alisa's marvelous presentation of Margaret Bourke-White's dangerous experiences during WW II for Life Magazine. The presentation was very enlightening. Thanks to all of you for your efforts.
Steve and Judy Adams
Margaret Bourke-White, famous W.W.II photojournalist, was the first accredited female war correspondent. Her career started in Cleveland, Ohio where she took pictures of stately homes for the Town and Country Club News, The Clevelander (a Chamber of Commerce publication) and Union Trust Company's publication Trade Winds. She took pictures of the newly constructed Terminal Tower where she opened her first studio. In 1929 she left Cleveland to take a job with publisher Henry R. Luce to work on his new magazine, Fortune. By the time W.W.II started she was working for Life magazine. Margaret eventually published 11 books of photo essays.

Margaret suffered with Parkinson's disease for 19 years, but continued to work for Life magazine until 1957. She published her autobiography, Portrait Of Myself in 1963. She died in Stamford, Connecticut when she was 67 years old on August 27, 1971.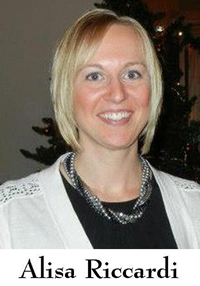 Alisa Riccardi has been performing as Margaret Bourke-White for Eden Valley for approximately 7 years. She has a Bachelor of Fine Arts in Theater Production and Performance from Youngstown State University. A Berea resident, Alisa and her husband have three children, ages 8, 5, and 4. Her other hobbies include martial arts and singing in her Church choir.