There Are No Bulldozers In 1804
MEET THE PEOPLE: THE CANAL BUILDERS was presented to a group of elementary students at Hillcrest Elementary School in Brecksville, Ohio. The living history program was set in 1804. One of our characters was a lawyer and farmer dressed in his lawyer's clothes complete with a shirt with ruffles showing at the end of the coat sleeves. He told the children that he had to clear his land for farming and asked them what they thought he should do. One little boy said, "Get a bulldozer." "Why would I want a sleeping bull?" asked the farmer. "No!" exclaimed the little boy, "A BULLDOZER!" "But I don't need a sleeping bull," the farmer insisted. This exchange went on a few more times when finally the little boy's friend pulled him out of the conversation. The farmer went on to explain about various methods of clearing the land in 1804 to the children. No one thought any more about the little boy and his "sleeping bull."
We did the program for several other groups of children after that. Two HOURS later, the principal came in during a break laughing hysterically and waving a piece of paper. It seems that in the middle of math class that little boy all of a sudden yelled, "OH! Sleeping Bull! I get it! There were no bulldozers in 1804!" He then proceeded to draw a picture of his conversation with the farmer from 1804.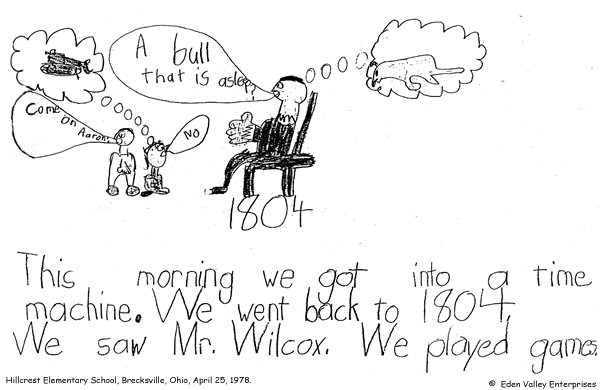 We're all betting that Aaron never forgot the history lesson he learned that day!