Belinda Bear, Owner of
Grandma Gatewood's Bakery
Like Eden Valley and
Belinda Bear's page on Facebook!

---
MEET BELINDA BEAR
Belinda Bear

Graduate:
Hocking College Culinary Arts Program, 2009

Specialties: Cookies & Cupcakes
Though Belinda LOVES Cookies and Cupcakes, she knows that some people just NEED something BIGGER and so she has come out with her own special cake mix -- "Belinda's Bakery Cake Mix" and she enjoys mixing it up! Of course, she makes ALL kinds of bakery for her store.
Priscilla The Moose is Belinda's best friend and First Assistant Baker. Her Specialty is cookies -- especially peanut butter cookies!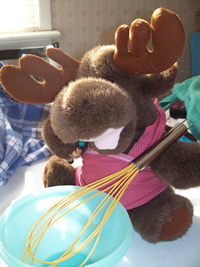 Belinda's boyfriend is Priscilla's brother, Mike The Moose. He's a singer and he LOVES Belinda's Baked Goodies.
Last year, Mike made Cupcakes for Belinda's birthday -- the first he ever made! Belinda pronounced them tasty, but said he needed to work on his presentation.
Belinda, Priscilla and Mike are from Mt. Katahdin, Maine where they used to hike the Appalachian Trail whenever they could. That's why Belinda named her bakery in honor of Grandma Emma Gatewood. She really wanted her heroine to have a documentary about her, so she thought up the Bake Sale to help. Mike was the first customer! Since Grandma's great-granddaughter, Marjorie Gilliam Wood, had shared Emma's oatmeal cookie recipe with her, she knew it would be the perfect reward for people donating to the cause!
Now that her friends at Eden Valley and FilmAffects have finished their documentary, TRAIL MAGIC: THE GRANDMA GATEWOOD STORY, Belinda still tries to help with fundraising to continue to get Emma's story out and to help with the new Victoria Woodhull project.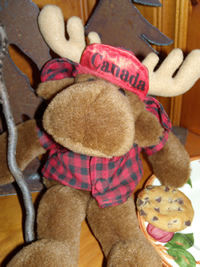 Right now she and Mike are hiking the AT and spreading the word about the Grandma Gatewood project in hopes they can find people to host an event, but Priscilla is manning the store and taking donations!
---
A SPECIAL NOTE FROM BELINDA:
Thank you for helping me spread the word about Grandma Gatewood! Whether you prefer to get the e-book or one of the DVDs or have a presentation of the play or storytelling program or a screening of the documentary -- EVERYTHING helps! You can also help by sharing this information with your Facebook Friends and your E-mail list.

And if you have any stories to share about Grandma or your hikes along the AT or the Buckeye Trail, just e-mail me and I'll post them on my Facebook page and/or my mail bag page.

See you when Mike and I get back to the Bakery!

Yours Sweetly,

Like Eden Valley on Facebook, too !