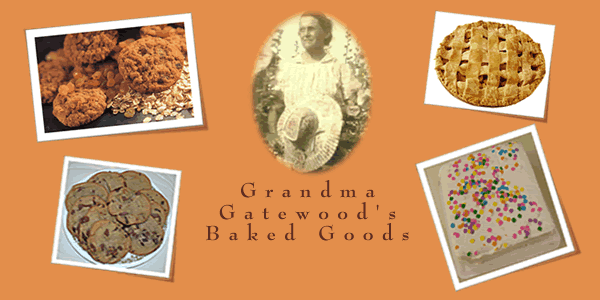 Belinda Bear, the owner of
Grandma Gatewood's Bakery,
is having a
Bakeless Bake Sale

Like any other bake sale, this one is to raise some "dough" for Eden Valley's programs. Originally, Belinda opened it to meet the challenge grant from the Ohio History Fund to create a Documentary about Grandma Emma Gatewood -- the first woman to solo thru-hike the Appalachian Trail at the age of 67! Since Belinda's Bake Sale was successful (well, at least a successful PART of raising the funds for the project!), she is now concentrating on helping Eden Valley tell other remarkable stories.
Unlike other bake sales, this one requires NO work and Belinda''s Baked Goods have NO calories!
Bakery Customers -- simply donate the money for the the current cause and Belinda Bear sends out a special treat.
The Current Cause is VICTORIA WOODHULL: SHATTERING GLASS CEILINGS. Victoria (and her sister, Tennessee C. Claflin) were early women's rights supporters (among other things!) The Eden Valley Staff (specifically the Grandma Gatewood project staff) are now documenting Victoria's life with a storytelling program and a documentary.
Since it's fall and time for PUMPKIN BREAD (A Belinda Bear favorite!), Belinda is offering a copy of Grandma Gatewood's Pumpkin Bread Recipe and a copy of the story about Victoria from EVE's REMARKABLE OHIOANS program for any donation over $10.00 to the cause! (Be sure to mention Belinda in a message with your donation.)
Help make a movie and enjoy a good story!

You can send a check made payable to Eden Valley Enterprises; 1250 East River St., Elyria, Ohio 44035 (download a convenient PDF form) or pay online with a credit card using PayPal by pressing the "Donate" button below. (As a not-for-profit organization under section 501(c)(3) or the Internal Revenue Code, all donations are tax-deductible. You will receive an acknowledgment for tax purposes.)
Belinda says, "There's no such thing a 'small donation' and thanks for your help!"


Your receipt, recipe and story will be e-mailed to you. (Be sure to include your e-mail address if you are sending in a check.)
Please share this "no calorie" treat with your Facebook Friends and E-mail list.

---
Meet bakery owner, Belinda Bear! And don't forget to read the letters she gets from her customer with stories of cookies and hikes.
Like us on Facebook!